Foxlow - Soho's best neighbourhood restaurant?
Foxlow, Soho - Restaurant Review
Cuisine: Modern British and European
Style Points: 4/5
Location: Soho
Price: ££
Overall: 4/5
Trying to be one of the best restaurants in Soho is no easy feat but Foxlow is definitely moving in the right direction. With an understated New York type of charm and simple yet stylish decor, I felt excited to be dining at Foxlow as soon as I walked in.
Our uber friendly and incredibly helpful Canadian waiter Gordon helped us make the first important decision when looking at a menu, picking a cocktail!
I ordered Iced Cucumber Green Tea while my guest went for the Rockefeller Fizz made with bourbon, sweet & dry vermouth & ginger ale. It's a small thing and I'm not entirely sure why but I like the fact that they show you what type of glass your drink will come in. I guess it's just reassuring knowing your drink won't be served in something ridiculous like a bowling ball or a flower pot...!
My non-alcoholic tea was actually very refreshing and had quite complex flavours that made it feel like you're drinking a mojito at one point and a herbal green tea the next. The cocktail was also very nice and not overpowering as it was made with vermouth which is generally lower in ABV than usual spirits.
Food?
For starters, we decided to share the Roasted Butternut Squash & Ricotta on Toast. Although it won't win any points for presentation, and nor should it, this dish was fab.
The sweet flavour from the butternut squash and the richness from the ricotta went perfectly together and the toasted sourdough bread was fresh and warming. A winning dish.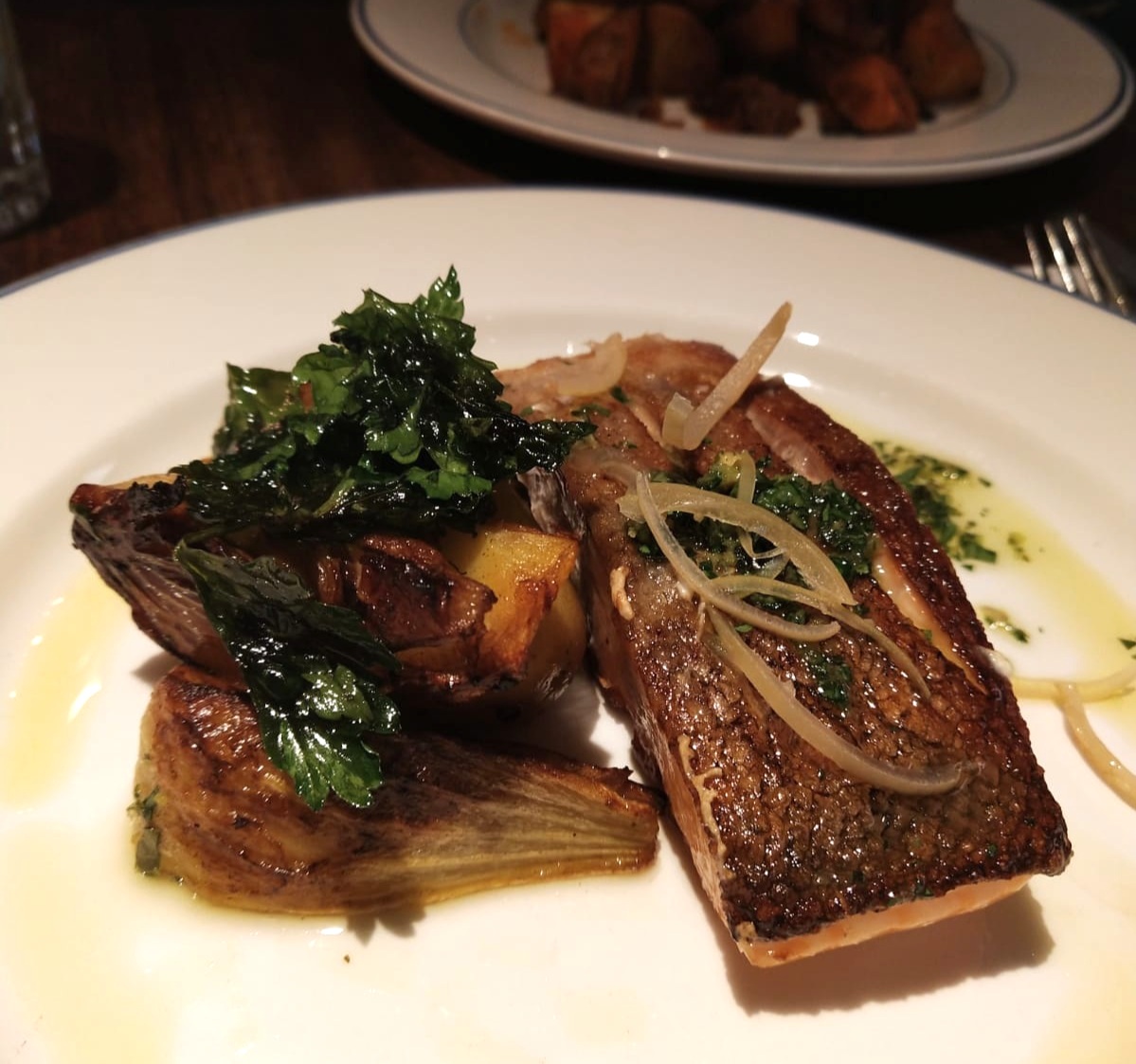 For mains, I opted for the House-cured Scottish salmon with saffron-roasted fennel & new potatoes and my guest went for the newly launched Foxlow Xinger Burger.
This mammoth burger came loaded with spice-coated Creedy Carver chicken, red chilli relish and spicy aubergine sauce and served with onion and smoked paprika cubed home fries.
At £15 you could say it's a bit pricey for a burger BUT this is no ordinary burger. Not only was it huge the chicken was juicy and tender and the coating was beautifully crisp with just the right amount of spice.
I must also make a mention of the spicy aubergine sauce which was rich with the taste of smoked aubergine and will now forever be seen as a winning combination with fried chicken. The home fries were nice but merely a footnote to this burger behemoth.
Whilst I stop drooling over the thought of the burger, I'll move onto to my salmon. Again it was a huge portion and the salmon itself was flaky and tender. The saffron fennel and new potatoes went perfectly with the salmon and I was really satisfied with the dish.
My guest, who usually hates fish, found the salmon to be really tasty and gave it two thumbs up, high praise indeed!
To bring our dinner to a close, we made the decision to share a dessert after our big mains. We chose the Chocolate mousse tart with Kirsch cherries and crème fraîche.
To be honest, it was quite a standard dessert and had familiar flavour notes of black forest gateaux. It also came out very quickly so I suspect it was pre-made and just cut up with a few Kirsch cherries.
Price?
The prices are quite standard for central London and you can expect to spend around £6-7 for a starter and £13-15 for a main.
The happy hour is pretty good, with a selection of cocktails costing just £5 from 5pm until 7pm. Another great thing about Foxlow is that they do BYO Tuesdays where you can bring as many bottles of wine or bubbly as you want with free corkage. This is quite brilliant and such a great idea so definitely take advantage if you can.
Overall?
I really like Foxlow and highly recommend you make a visit if you happen to be in the Soho area or are willing to travel for a really good burger. The Xinger Burger is definitely worth it and the atmosphere is super relaxed and chilled to make it a great mid-week dining location.
See the full menu on Foxlow's website.
Address: 134-146 Curtain Rd, London EC2A 3AR
Closest Tube Station: Old Street
Special thanks to Foxlow Soho and Gordan for their hospitality!
Pin for later: