Pizza, pies and cider at The Stable Pizza, Whitechapel
Restaurant Review: The Stable Pizza, Whitechapel, London
Style Points: 3/5
Price: ££
Overall: 3/5
Pizza, pies and cider. These are the things The Stable Pizza serve and were exactly what I was eager to try on my visit. If you live outside London then you night be familiar with The Stable restaurant as they have branches around the country after originating in Dorset. The only location in London is in Whitechapel so I made my way there hungry for pizza.
On entry, I immediately got the impression of a Brooklyn hipster cafe with the high ceilings, plants and wooden decor. The owners want each location to feel unique and this is the same for the menus which only offer food and drink that can be sourced locally. It felt like a relaxed and laid back environment and actually stretched far back with a very generous amount of seating.
What's on the menu?
As a vegetarian, pizza is a faithful friend and it is always interesting to see what options (if any) restaurants come up with for those who require meat-free. The Stable menu offered four different vegetarian pizzas and we opted for the Dorset Street Blues (topped with blue cheese, roast potatoes, spinach and onions) and Billy the Kid (typed with goats cheese, caramelised onions, mushrooms, spinach and hazelnuts). We also ordered a side of garlic bread.
We both enjoyed our pizzas and were grateful for toppings that we had not previously tried. I liked the potato addition and we both agreed that hazelnuts really enhanced the flavour of the pizza and gave an interesting texture. Unfortunately the garlic bread side was quite uninspired and could have been tastier.
For dessert we chose from the menu the Apple and Blackberry Crumble and the Warm Chocolate Brownie. Both were very warming and homely and completed the meal perfectly.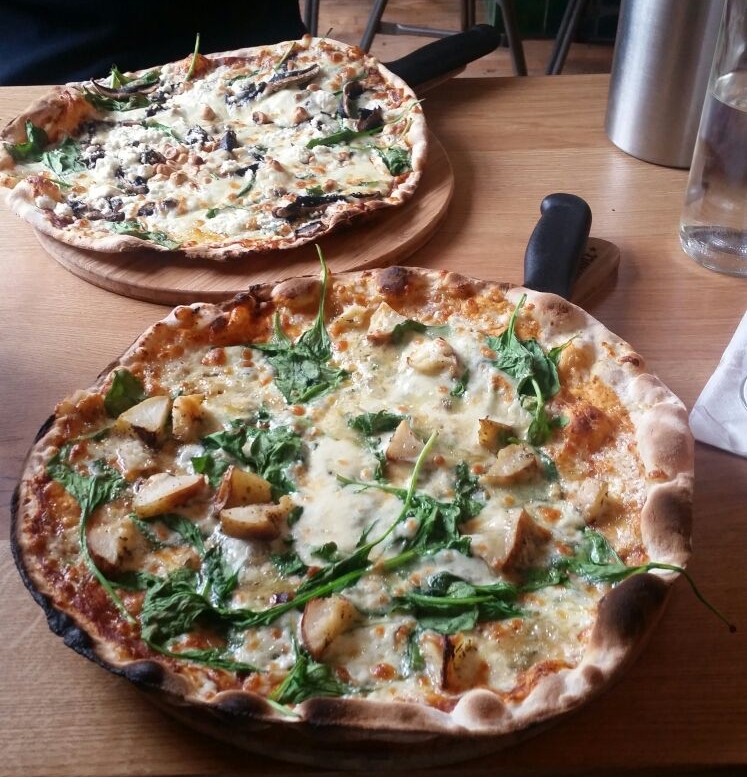 Could I afford to dine here again?
The pizza menu at The Stable range between £11 and £12.50 with desserts coming in at £5.50. These prices are on the pricier end of the pizza scale but you are paying more for the quality toppings.
Overall?
The Stable is the place for you if you are looking for a low key, relaxed environment serving good quality pizza with interesting flavours on the menu. We saw people taking full advantage of the different ciders and I would really recommend to visit if you are into local drinks and ingredients to see what London has to offer.