The perfect fruity menu for Summer 2017
Celebrating Summer with a menu full of Rainier Cherries!
On a sunny summer evening I headed down down the gorgeous winding mews of Kensington to the US Embassy for a night of celebration.
The evening was dedicated to the delicious rainier cherry. A cross between two red cherries, the rainier cherry is distinctive because of its golden yellow colour and incredibly sweet flavour.
In honour of this delectable fruit, Adventures in Fruit and the US Embassy's own head chef concocted a five course meal for us to demonstrate its versatility and many uses.
The Menu...
The first course consisted of herb-coated goats cheese, cherry chutney, cherry focaccia. The flavours of the cheese and the sharp cherry chutney complimented each other very well and resulted in a delicious dish.
The next dish was a combination of fish and cherries, which I wasn't too sure about when I'd first seen it on the menu...! However, the chef had worked wonders and the BBQ mackerel with soused rainier cherries, cider vinaigrette and fennel turned out to be a very enjoyable match.
Our next course was a roast tarragon chicken ballotine, with wilted kale, and cherry jus. This was a distinctive and delightful dish, as flavours of the rainier cherries and the herbs used on the plate blended beautifully togehter.
Desserts were next and we were lucky enough to be presented with two! The cherry mousse and sorbet fused wonderfully into each other and the sorbet slowly melted in the sunshine. We also had a Summer sherry and cherry trifle, and as cherries have always been a classic ingredient in a trifle, this was a very apt dish to end with.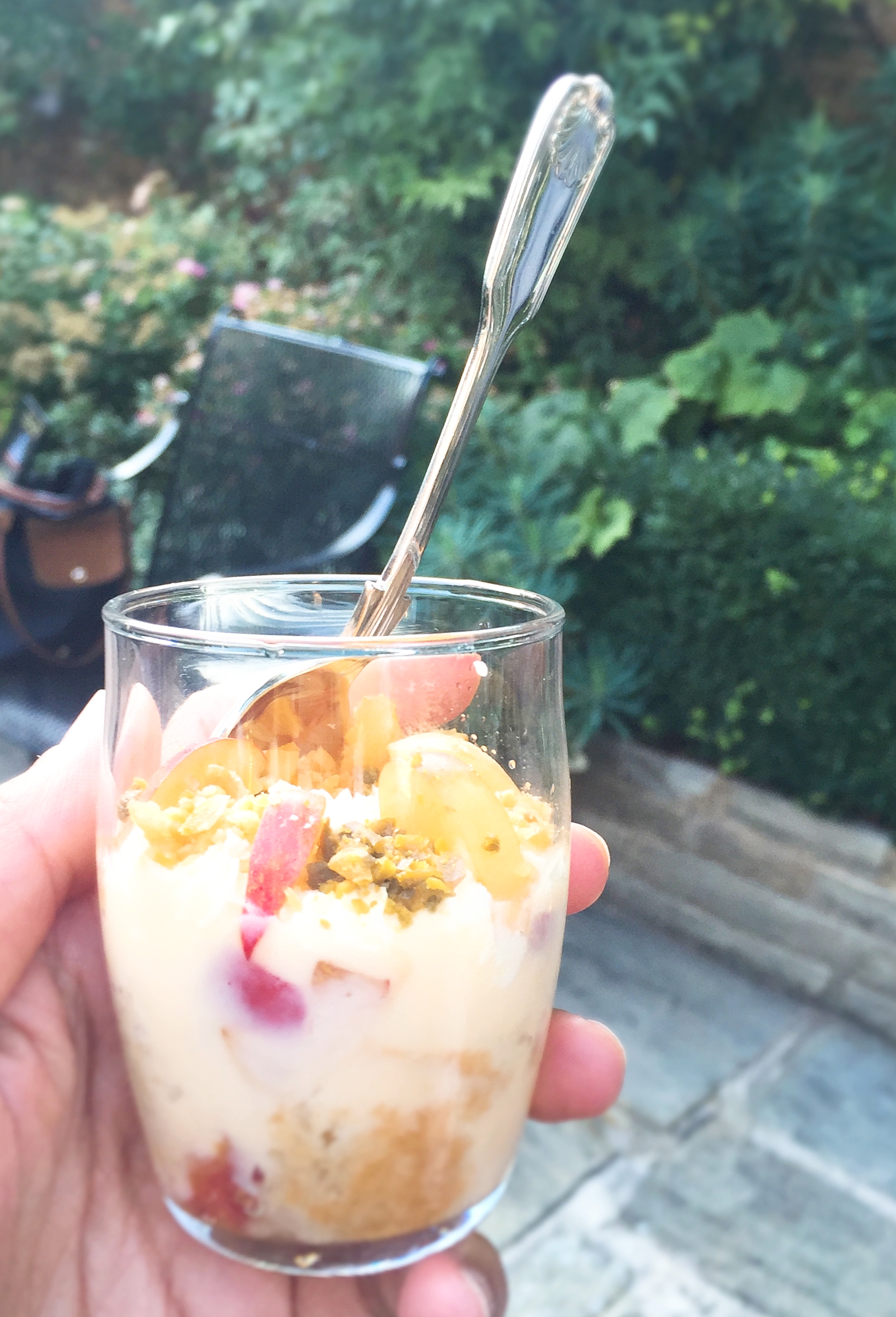 From my evening at the US embassy I discovered a whole host of ways to utilise rainier cherries in my food. I also learnt that they quite simply taste divine on their own too. Sold at M&S, I have already picked up a bunch!