Departments of Dining at The Kitty Hawk, City of London
Review: Refined dining at The Kitty Hawk, City of London
Style Points: 4/5
Price: ££
Overall: 4/5
A short walk from both Moorgate and Liverpool Street tube stations, The Kitty Hawk is the perfect spot for a range of food-based gatherings. From morning coffees to late night cocktails, The Kitty Hawk is an all-day destination with five bespoke dining experiences all under one roof.
A quick tour of the premises took us through the relaxed bar and kitchen, inviting restaurant, cosy cafe and stunning private dining room.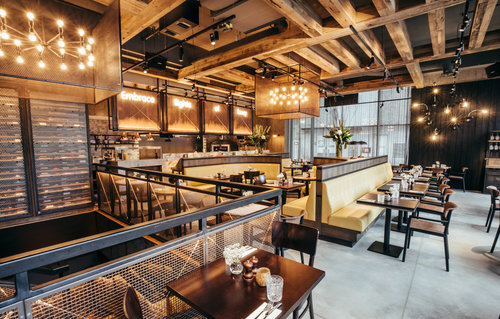 What's on the menu?
There were some interesting non-alcoholic cocktails on the menu so we decided to give them a try. My guest tried the apple crumble shake and ice cream (vanilla ice cream served with cinnamon syrup and apple juice, topped with actual crumble pieces) - a sweet and delicious dessert in liquid form. I opted for the berry and basil bramble (strawberries, blueberries and raspberries muddled with basil, topped with cranberry juice and served over crushed ice) which was fruity and refreshing but a little on the bitter side for me so it took a little while for me to finish.

We kept it light with our starters and I ordered the Parma ham with melon and black fig jam (Parma ham with seasonal melon, black fig jam and Parma ham crisps with watermelon gazpacho). I have had this dish on vacation a few times and always found it a fresh dish and the pairing to be complementary.
My guest went for the Brixham crab salad starter (fresh Brixham crab salad served with a spicy chilli mayonnaise, shaved pickles and garnished with micro red amaranth and lemon) which she described to be a perfectly sized portion. Fresh crab, served with a spicy chilli mayo which could have been a little more spicy but certainly satisfied as a starter with space still for the main course.

The Kitty Hawk prides itself on its steaks so it's only right that we sample their red meat options for our main courses. There was an option for sharing platter but we decided to go for variation instead. My guest enjoyed a British Barnsley chop (British Barnsley chop served with smashed chargrilled aubergine, pomegranate jam and shredded mint) which was tender, moist, freshly cooked to perfection - slightly pink on the inside and served with a mashed aubergine (like baba ganoush) and addictive wilted spinach, nutmeg is their secret ingredient.

The Kitty Hawk makes use of fresh produce sources from Alec Jarrett, a West Country local farming business for their aged, award winning, quality cuts of beef. There is an express lunch menu available Monday to Friday (11.30-17.00) which includes an Ashdale minute steak (served with skinny fries and salad) and Lemon posset dessert in a jam jar all for £18.95 which is perfect for a lunch meeting for city workers.

Meanwhile I chowed down on a very flavoursome 10oz rib-eye steak which was served medium but I found it slightly difficult to cut around the sides. There was an array of sauces to choose from and I went for the borderlaise sauce (a rich red wine reduction with bone marrow) it was delicious but came slightly burned on the top. In addition, I had a side serving of chunky chips cooked in beef dripping, golden in colour and so tasty.
Shortly after our mains, the topic of conversation quickly focused in on the exciting dessert menu, naturally - we're not savages you know. My guest ordered the cherry trifle (layered cherry trifle sign griottines liquor and vanilla bean cream, dark chocolate shards and toasted flaked almonds) which was beautifully presented in an open jar so you could see the contrasting layers from the outside and the cream was topped with the whole cherries and chocolate and almond flakes.

My dessert order came with a scene change and a health and safety warning. Ordering the fruit flambé meant we were asked to follow our waitress to a more spacious area where she had her trolley laid out with all the ingredients: brown sugar, butter, meringue drops, amaretti, chopped berries and a trusty shot of amaretto (for the dessert, silly).
We were asked to take a step back and she talked us through every step of what she was doing of course we had our phones flashing in her face at this point. If it's not on social media, it didn't happen right? With a controlled blaze of flames and sweet aroma in the air, my dessert was now served.
The combination of ingredients drizzled with the caramelised syrup looked and smelled like I needed to see to it immediately. I can't explain how perfect this dessert tasted, although I would suggest you eat it fairly quickly before your dessert (or sorbet in my case) melts. This is usually served with fresh amaretto cream so this should not be an issue for you. It was syrupy sweet with bitter notes which I really liked and the flambé routine itself was an undeniable highlight and I fully recommend it!
Could I afford to dine here again?
At £28.72 each Kitty Hawk is a happily affordable option, that could of course all change if you order plenty of alcoholic beverages. However we had an extremely satisfying meal for this amount.
Overall: 4/5
All in all, we thoroughly enjoyed our meal with locally sourced food in a comfortable and sophisticated setting, with great customer service and the option of a lively after-work drinks atmosphere in close proximity to the nearest tube stations.
Reviewed by guest writer Syeshia Sweeney. A special thanks to The Kitty Hawk for their fabulous hospitality.