Christmas Gift Guide: 6 luxury kitchen gadgets for foodies
Kitchen gadget gift ideas for food lovers - Christmas gift guide
1. For the chef of the house - Furi Knives
Knives are the most important tool in the kitchen. For such a vital implement it is essential that they are sharp but also fit comfortably in your hand with perfect weight and balance. Furi Knives fit the criteria flawlessly. Using only high grade Japanese stainless steel which is polished and ground to a high finish, these knives are not made, they are engineered.
The Furi Pro Wood Knife Block 4 Piece Set is the ultimate gift for any budding chef and includes a 5cm Utility Knife, 20cm Cook's Knife and a 20cm Bread Knife, complete with a gorgeous Rubberwood and Teak Knife Block. Each knife has an innovative and patented wedge-shaped handle that fits comfortably in the hand making food preparation a zen-like pleasure.
For the seasoned pro, you need not look any further than the Furi Pro East West Santoku 2 Piece Knife Set. Presented in a beautiful Acacia wooden display case, the set contains the 13cm and 17cm Santoku Knives. I absolutely love these knives and use them for almost all my cutting needs. From amateur cook to seasoned pro, Furi Knives make the perfect all-round gift for anyone who loves to cook.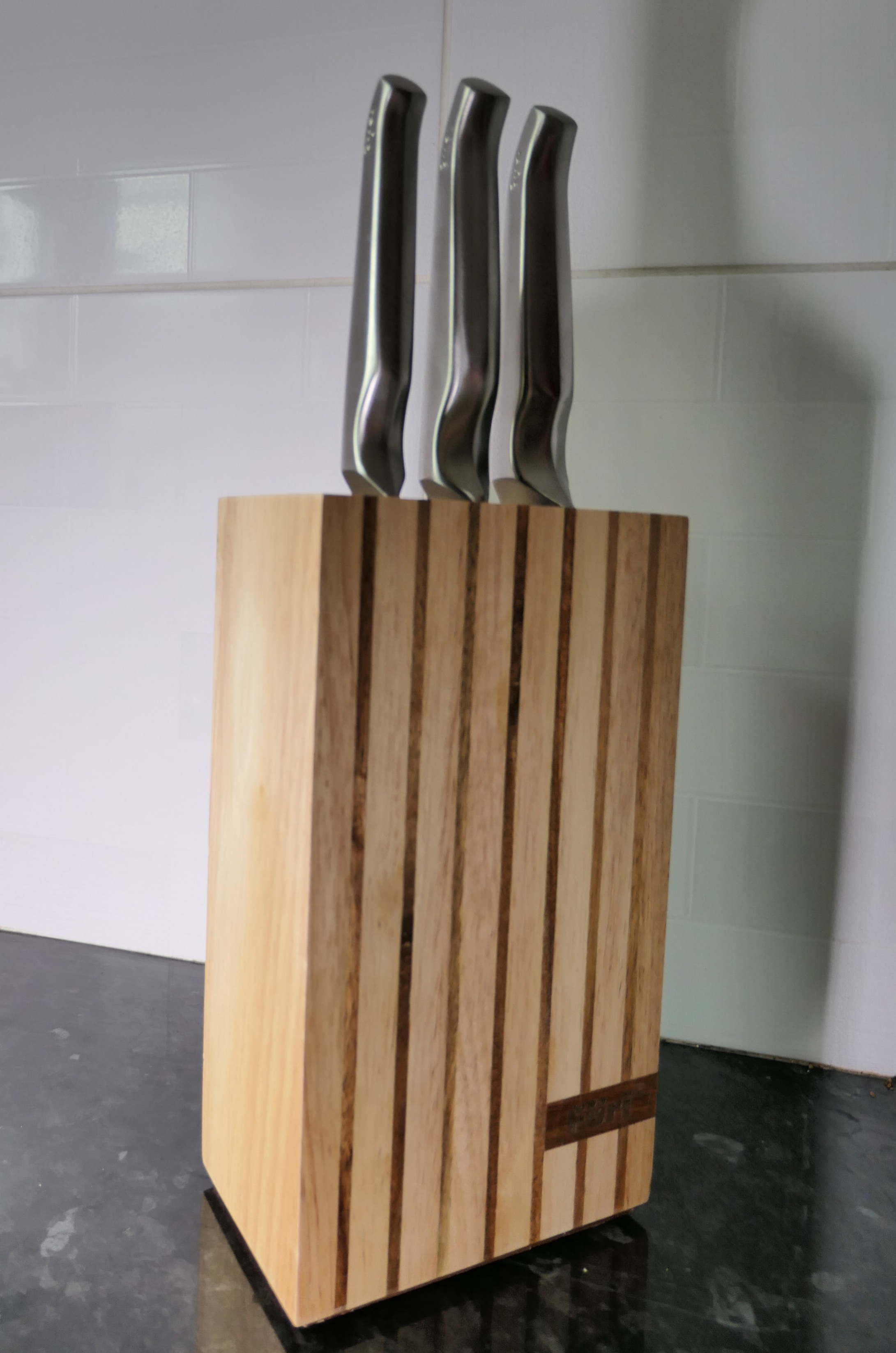 2. For avoiding mishaps - Nima Gluten Sensor
Nima is the world's first portable gluten sensor and having used it first-hand, I can confirm that it is an impressive piece of kit. By simply placing a pea-sized sample of food into a capsule and inserting it into the machine, Nima chemically analyses your food wherever you happen to be. The first food I tried it on was couscous and after a few minutes, it gave me an accurate reading for gluten.
It is important to note that, although it gives an impressive 96.9% accuracy, the machine can't guarantee that your whole plate of food does not have gluten in it so the machine should be used to make informed decisions on food choices.
Nima has a super long battery life and is both lightweight and compact. Klarify.me sell the Nima Starter Kit that includes 12 disposable capsules, perfect for introducing newcomers to the machine. You can buy the starter kit on Klarify.me.
One of the best features of the machine is definitely the Nima app. Every time the machine runs a test, the app prompts you to make a recording and to provide details that will help other users such as where you got the food, what it is and whether you had to specify if it was gluten free beforehand.
This is a great gift for any gluten intolerant loved ones in your life and they will definitely love you for it the next time they go out for dinner.
3. For the life of the party - Gourmet Gadgetry Popcorn maker
As the days get shorter and the weather gets colder, there's nothing better than freshly made snacks enjoyed in front of the fireplace. Now you can have fresh crunchy popcorn to make this experience even more cosy and decadent with the Gourmet Gadgetry Popcorn Maker.
Simple and easy to use, this compact machine takes up little room on your kitchen top and produces a perfect bowl size portion of popcorn. Included with the machine are tasty flavour suggestions although this is where you can let your creativity run riot. In one evening, I tried salted caramel, tabasco and oregano, and peanut butter and chia seeds. This machine is perfect for those with a sweet and savoury tooth alike!
4. For cooking perfection - Sous Vide Machine
If you're a fan of MasterChef then you'd know that sous vide cooking is the ultimate tool for culinary success. By submerging food sealed in a plastic bag into a water bath and increasing the temperature around it to a precise degree, the food is cooked evenly every time to restaurant quality standards. Thanks to the iVide Cooker by SousVideTools you can now create dishes of perfection in your own kitchen.
The results from the iVide Cooker are nothing short of amazing. I used the machine to create chicken breasts infused with rosemary and butter and I can honestly say it was the best chicken I have ever cooked.
One of the best features of the iVide Cooker is the iVide App, which makes it even easier to cook delicious food. Once you have connected the device to your pot or container via the clamp and submerged your food in the water, you can use the ingenious calculator app to control the machine and ensure the food is cooked exactly how you want it. With push notifications from the app, you can carry on with your day without needing to be in the kitchen as the app will alert you when the food is ready. As the food only cooks at the precise temperature, there is no fear of overcooking your food if you are running late.
The machine is also small and compact so it can be easily stored away without any fuss so there is no worry that your kitchen table top will be taken over. In essence, the iVide Cooker and Vacuum Sealer is a must for those that want fuss-free restaurant quality food without having to leave the house.
5. For the coffee connoisseur - Krups coffee machine
Evidence Bean to Cup Coffee Machine is one of Krups best coffee machines. This is the machine for your avid coffee drinker who can tell their ristretto from their doppio, their cappuccino from their macchiato.
This is a stylish and compact machine which can be operated from a nifty app. Having used the machine for two months now, the quality and consistency of coffee has remained impressively high with no issues whatsoever. Make no mistake, this machine delivers the best cup your coffee beans could possibly produce.
For those that don't like a fuss when it comes to their morning coffee and prefer a classic yet exquisite espresso, there's there the Krups Calvi Espresso Machine and Burr coffee grinder. This machine is compact and minimalist yet looks sleek and modern at the same time and does its main purpose of making high quality espressos very well indeed.
The Calvi Espresso Machine is compatible with both ground coffee and soft pods and the two-cup filter allows you to make two cups at once, perfect for the couple who need an espresso fix first thing. Combine this with the Burr Grinder to grind your coffee beans to the preferred fineness to suit your type of coffee drink and your own individual taste - a great product for any coffee lover's Christmas stocking!
6. For the Christmas Shopper - Smarter FridgeCam
We all know how frustrating it is when you've made the journey all the way to the supermarket, forgotten if you need to buy more milk and end up buying more only to come home to a full gallon of milk in the fridge! Well now there's a solution to this annoying problem, the FridgeCam by Smarter.
FridgeCam is a wireless fridge camera that allows you to see what's in your fridge via your smartphone from anywhere in the world. Truly revolutionary, by fitting the camera in your fridge you can buy what you need without creating any unnecessary food waste.
Every time you open your fridge door, the FridgeCam takes a photo and sends it to your smartphone so you can always see what you need and don't need to buy. Having used the FridgeCam for a month now I can honestly it's been incredibly useful having the ability to see what's in your fridge before you make a purchase. The app itself is very responsive and even has a best before tracker so you can keep an eye on product expiry dates and be reminded by the app to use them up in time.
This is incredibly useful, especially when you consider that the average UK household wastes £700 worth of food annually. Another great feature is that you can connect the FridgeCam with smart home devices such as Amazon's Alexa and IFTTT (If This Then That.) This essentially means you can ask Alexa what's in your fridge and she will tell you! This is impressive to say the least and makes keeping track of your products even easier.
This is definitely a present for the shopper of the house and can help keep food waste down to a minimum whilst of course saving you money in the process.
What kitchen gadget would you love to receive this Christmas?
Her Favourite Food x
Pin for later: