The COMPLETE guide to Chiang Mai Old Town - Thailand Travel Guide
Chiang Mai, Old Town - Thailand Travel Guide
Chiang Mai's Old Town was one of my favourite places in Thailand and I could have easily spent longer than five days here. The city is full of culture, friendly and relaxed locals, delicious food markets and what seems like endless beautiful temples. Chiang Mai is fast becoming the place to be seen, which is evident in the rise of the cafe culture and Western fine-dining restaurants.
Sleeper Train to Chiang Mai
We arrived here by sleeper train from Bangkok, which leaves the city around 6pm and arrives as 7am. We opted for the first class cabin as it wasn't extortionate, and as we were spending a lot of time in the train we thought it was worth the extra cost. And it certainly was worth it! The private first class cabin is large and comfortable and has shared clean toilets and shower. We were impressed by how modern the cabin was, as it included digital screens which tracked our location, played radio or tv and also indicated if the toilets were free or not.
We were provided with bed linen and our beds were made for us a few hours into the journey. We also had the choice to order dinner or breakfast but decided not to.
Top Tip: Book your tickets in advance online at 12Go.Asia. We booked our tickets a few months in advance and just had to pick them up an hour before departure opposite the train station. It was very straight forward and a stress-free way to make sure you have the tickets you need.
Also make sure to bring lots of food and drink with you as the choice in the train station and train isn't spectacular .
We arrived at Chiang Mai train station and was able to quite easily find a taxi by asking at the counter.
Where to stay
Bodhi Serene Boutique Hotel
We stayed at the Bodhi Serene Boutique Hotel for 5 nights and really enjoyed every aspect of it.
Bodhi Serene is a large space but only has 24 rooms which were quite spaced out, so it never feels over-crowded or busy. Add to that 2 big pools, a bar and restaurant area, and a gorgeous lounge space that make this hotel seem almost like a luxury resort.
Our room was spacious and luxurious and had a balcony that overlooked the central garden. The bathroom was also large with a great shower and a bath big enough for two.
Breakfast was a selection of continental and local items and included a variety of fruit, bread, juices as well as an egg and pancake station. Hotel breakfasts can be hit or miss but Bodhi Serene have got it right and have done well to accommodate all types of guests.
The staff were friendly and very hospitable and the location couldn't have been better as it was nestled right in the centre of the Old Town next to many key sights and markets.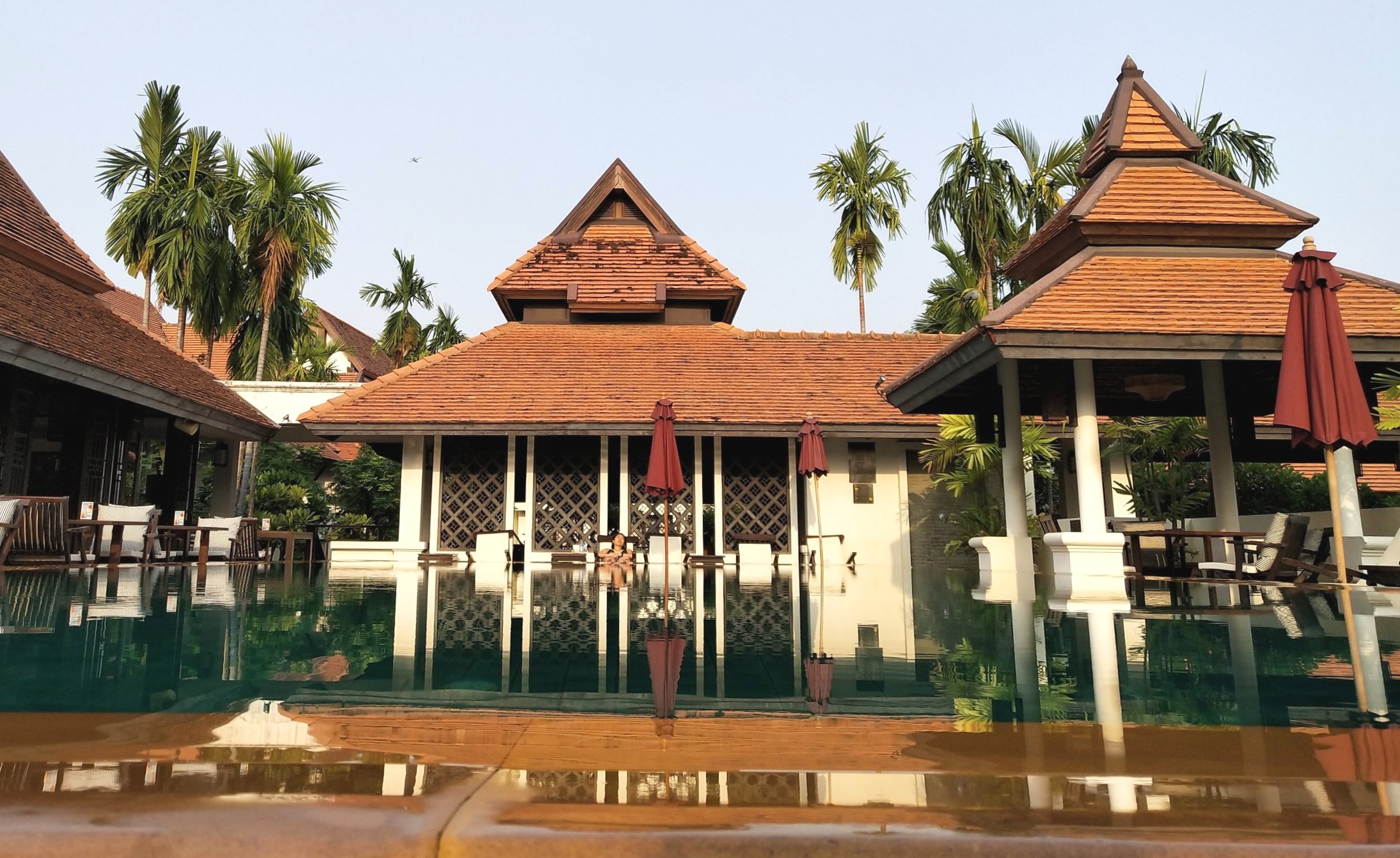 Where to eat
1. B Samcook Home 16
B Samcook Home 16 has been cited as one of the best dining experiences in Chiang Mai. Chef Boy heads up this family run business and serves up some amazing dishes.
We tried the 7 course set menu which highlights the best of Chef Boy's finest creations. Each dish was a marvel in its own right, supplemented with genuinely friendly service.
Prices are very reasonable for the quality and quantity of food you receive and they will even offer to pick you up/drop you off to your hotel which is great if you are staying quite far from the restaurant.
2. Kanjana - Khao Soi
A local dish from Chiang Mai is Khao Soi and I totally fell in love with it during my trip. There are several variations but it's essentially chicken or pork on the bone cooked in a broth of coconut milk mixed with local spices, shallots, garlic, tomatoes, lime juice, hand cut noodles, and topped off with deep-fried crispy egg noodles.
Kanjana has recently received rave reviews for its Khao Soi and although it's a small place in a hidden alley, the Khao Soi here is out of this world.
3. Khao Soi Arak
A hidden gem, Khao Soi Arak serves arguably the best and cheapest Khao Soi anywhere. Still undiscovered when we dined here, the Khao Soi was 30 Baht (less than £1!) and it was quite simply mind-blowing. Certainly one of the best dishes I had during my whole trip and I can't recommend it enough. However, it's a Thai equivalent to a hole-in-the-wall so don't expect a fine-dining experience!
4. My Secret Cafe in Town
Popular with the ex-pats and digital nomads of Chiang Mai, My Secret Cafe is no longer a secret as such, but it does provide a relaxed space to work over a coffee, lunch and even dinner. It's a large space with a chilled-out vibe and you'll almost certainly be joined by people with Macs in hand ready to respond to emails.
5. Morning Market
Chiang Mai morning market is primarily for locals to stock up on produce for the day, but I found some of the best tasting food at this market. Open from sunrise until around 11am, go early to try freshly made and incredible local specialities including Thai iced coffee, mouth-watering mango sticky rice, and the infamous Sai Ua La Wan (Chiang Mai sausage). Prices are very cheap, so skip breakfast at your hotel one day to try a variety of food and drink from different stalls at this fabulous market.
What to see:
1. Tha Pae Gate
Tha Pae Gate marks the entrance to the Old Town and is one of the most famous landmarks in the city walls. Having once acted as a fortress for the Old City, it faces the Ping River and is also close to many popular sights and shops.
2. Visit an elephant sanctuary
Chiang Mai is famous for its elephants and it is a must to visit some of these majestic animals during your trip.
We joined the Elephant Jungle Sanctuary Thailand, an entirely ethical and sustainable eco-tourism scheme, located approximately 60km from Chiang Mai.
We booked the morning visit and they picked us up at around 7am sharp from our hotel and drove us to the mountains to meet the elephants. The visit consisted of a briefing, then feeding, massaging and washing the elephants in the waterfall. Groups are purposely kept small and the staff are respectful to the animals at all times which sadly isn't the case at all elephant sanctuaries which you may see on your drive up.
A delicious lunch is provided as well as a transfer back to your hotel. They even have a member of staff whose job is to take high res images during your visit which you able to download afterwards through their Facebook page. This was great and it allows you to truly immerse yourself in the incredible experience with the animals.
Top Tip: Book the morning visit, as although it may involve an earlier start it avoids the hottest part of the day, meaning you can enjoy the experience much more. Bring a spare set of clothes as you will get wet and muddy!
3. Visit the many temples
Chiang Mai's Old Town is over 700 years old and is home to over 300 temples. You are certain to pass at least a handful on any walk through the town.
Make sure you visit the bigger ones including Wat Phra Singh. This houses the highly respected Phra Singh Buddha as well as a school for young monks.
Wat Chedi Luang was built to store the ashes of King Saen Muang Ma's father and is beautifully unique in its architecture. It was once home to the most important religious object in Thailand, the Emerald Buddha, which has now been moved to the Grand Palace in Bangkok.
Wat Chiang Man is the oldest temple in the city and was part of the original structures of the city.
4. Monk chat
Monk chat is a chance for the many monks and children from religious schools to practise their English with visiting tourists. It also offers the opportunity for visitors to learn more about monk practises, the Buddhist religion and their way of life. Sessions are completely informal and on a drop-in basis, and you can stay as long as you like. They can be found in temples across the city, particularly Wat Chedi Luang.
This is a unique opportunity to have a mutually beneficial conversation with Buddhist Monks and we really enjoyed it too!

5. Chiang Mai Night Bazaar
Although not located in the Old Town, Chiang Mai Night Bazaar is about a 10min ride or a 30min walk away and definitely worth the visit. Featuring food, drink and souvenirs galore, we saw an array of amazing souvenirs at reasonable prices, although bartering is of course expected. It's a great try some tasty street food and to just hang out after a busy day visiting temples.
Have you been to Chiang Mai? Let me know what your highlights were in the comments below!
Her Favourite Food & Travel