Affordable Beachside Luxury at Aaron Hotel, Nha Trang, Vietnam
Aaraon Hotel, Nha Trang, Vietnam - Hotel Review
Location: Nha Trang, Vietnam
Price: ££
Overall: £££
Summary: Modern, central and stunning views
During our travels through Vietnam we decided to slow down on the pace and spend a relaxing 5 days in the beach town of Nha Trang. We not only wanted to spend some quality time of the beach, but I'd heard great things about the restaurants in the area and wanted time to explore a good selection.
We stayed at the three star Aaron hotel which is located on the beachfront and in the center of town. Nha Trang has an array of hotels to choose from but we choose Aaron hotel due to its location and quality rooms and we were really pleased with our choice.
Hotel transfers
We arrived in Nha Trang by plane at Cam Ranh International airport from Vientiane in Laos and caught a taxi to the hotel. As the airport is about a 30minute ride from Nha Trang, and over 22 miles away from the beachfront, the taxi can be quite expensive so make sure you have enough cash on you.
On our way back Aaron hotel booked a taxi for us which was great as we had an early flight and had to check-out early.
Location
Nha Trang, which means 'white sand' in Vietnamese, boasts miles of sandy white beaches, mountain views and islands located out at sea too. Aaron hotel is situated in the midst of this natural beauty in the Tran Phu Beach district, and it also has a host of bars and restaurants next to it too.
Style and Character
Aaron hotel is a modern hotel which, like many hotels in Nha Trang, is tall and this and made up of over 20 floors. The hotel is themed around the colours blue and this can be seen in all of the rooms, as well as the furnishings and communal area.
Rooms
During our stay in Aaron Hotel, we stayed in two different rooms, the Suite with seaview and the Studio with seaview.
The Suite was a unique room because of the round birdcage bed in the middle of it. This gigantic round bed was immensely comfortable made a beautiful addition to the room. The Studio room is a large room with a kitchen and dining space and extra bed - perfect for travelling families.
The rooms were designed to a high, modern, standard and the air conditioning in each room was perfect. There was also electric displays for 'do not disturb' and 'room service' rather than signs to hang on door handles.
We also had stunning sea views from both of our rooms, and as we were located high up in the building, these views were breathtaking!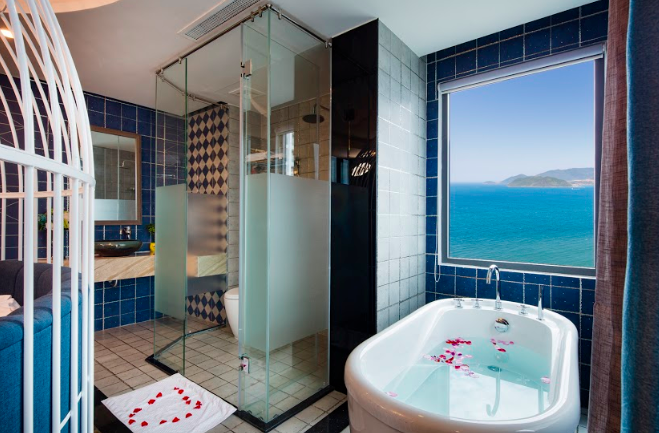 The beds at Aaron hotel are large and very comfortable. The round birdcage bed in the Suite is also a standout addition to the room. Both our rooms were on the highest floors of the hotel and so it was very quiet during the night.
Our rooms at Aaron hotel have a walk-in power shower with free toiletries. In some of the rooms, such as our Studio room, the shower is not separate from the toilet which means it can all be a bit wet after a shower. However in the Studio we had a bath located by the window offering gorgeous sea views as you lay in the bath.
Tea making facilities and mini-bar
All rooms are fitted with a fridge and a kettle with and coffee too. Water is also provided in room. There is a small mini bar and snack than can be bought.
Breakfast and meals
Breakfast is a buffet and offers a good range of variety. There is more local vietnamese dishes in the hot food offerings as well as in the cold section, such as sushi and local desserts. There was a good selection cakes too, however we found that certain things, such as juices and fruits were not topped up regularly and so finished early.
The breakfast area isn't a large space but we found that there was always a table available, however it can get quite busy.
Facilities and Activities
Aaron hotel have an outdoor rooftop pool which faces the seafront, which means you can admire the sea from afar. There is also a good sized rooftop gym with views fo Nha Trang city.
Service and hospitality
The reception is open 24 hours and staff are very friendly and helpful. They can also provide you with beach towels on your way to the beach which saves you carrying your own.
Value for money
Although Aaron hotel is rated a three star hotel, the rooms are designed and equipped to a high quality and are incredibly comfortable. As you are unlikely to spend much time in the rest of the hotel, this makes Aaron hotel great value for money.
Overall
The rooms at Aaron hotel are impressive and we loved both the rooms we tried. The views in particular were incredible, with stunning views out onto the whole beachfront and further from our top floor Studio apartment.
Aaron hotel was also in the perfect location for us and allowed us to make the most of what Nha Trang has to offer.
Book your stay at Aaron Hotel, Nha Trang.
Address: 6 Trần Quang Khải, Lộc Thọ, Thành phố Nha Trang, Khánh Hòa 650000, Vietnam
Special thanks to Aaron Hotel for their hospitality.
Our stay at Aaron Hotel was complimentary - all opinions are my own.
Pin for later: