Five gorgeous gins to get you in the mood for Spring!
Best five gins for Spring!
Spring is always a lovely time of the year. The days get longer, flowers start to bloom and relaxing in the garden with a cold refreshing gin and tonic becomes a regular past-time! To get you in the mood for those relaxing days in the garden, here are my top 5 gins to try this Spring.
Whitby Gin - The Original Edition
Whitby Gin is a relatively new gin on the market having started life in 2017 by a pair of gin enthusiasts inspired by the various gin distilleries in the Outer Hebrides. Since then the gin has won several awards including Best London Dry Gin at the World Gin Awards in 2019.
Of course, the proof is in the tasting and this gin has lovely herbal and sweet notes from the ingredients sourced from all over Yorkshire including sugar kelp, heather, and honey. If you like a gin that doesn't overpower the palate and can be enjoyed just on the rocks then this is certainly the gin for you.
Hendrick's Midsummer Solstice Gin
Hendrick's is of course a well known name when it comes to gin and their latest addition is another in a fine line of impressive and innovative gin creations. Hendrick's Midsummer Solstice Gin is a small batch, limited-edition gin by Hendrick's Master Distiller, Ms. Lesley Gracie whose inspiration when creating the gin came from the 'mysterious and ephemeral delights' of floral blooms during the summer solstice.
The final result is a lovely gin that has floral and zesty notes but has the recognisably mellow taste of Hendrick's House style. Try this gin over ice with a good tonic water and a couple of slices of lemon to really bring out the flavours of the gin.
Bränneri Dry Gin
Bränneri Dry Gin is a new favourite of mine. Hand crafted on the Swedish island of Södermalm by Calle and Anna Wikner, this gin is their take on a traditional dry gin drawing inspiration from their Nordic background and surroundings. The gin is distilled from 7 organic botanicals - juniper berries, coriander seeds, angelica root, lemon peel, heather, elderflower and rosemary.
All these ingredients make for a gin rich in earthy flavour, especially from the local angelica root, heather and elderflower. This is the perfect gin for classic gin cocktails and I'd recommend it with a dry or sweet vermouth and a twist of lemon to create a wonderful Gin Martini.
Manly Spirits Coastal Citrus Gin
The popularity of gin has spread so far that even Australia has begun to feel the effects. Manly Spirits is a distillery based in Sydney's Northern Beaches and tries to captures the spirit of the New South Wales coastline by using sustainably sourced, native Australian botanicals. Their Coastal Citrus Gin is incredibly refreshing and if you take a sip and close your eyes, you may even hear the waves of Tasman Sea gently caressing the Australian coastline (not a guarantee!).
The gin is made with numerous citrussy ingredients including Lemon Aspen, Lemon Myrtle, and Meyer Lemon. The aroma is wonderfully lemon and citrus and the overwhelming taste on the palate is of course citrus lemon, but there is also juniper and coriander in the background. This gin doesn't need any frills, just pop in a couple of cubes of ice and top up with a good Indian tonic water and you're good to go.
Bloom Jasmine & Rose Gin
BLOOM London Dry Gin has been producing high quality gin since 1761 and currently has Joanne Moore at the helm, one of the world's first female Master Distillers. One of Joanne's creations is the limited edition Jasmine & Rose pink gin. The colour of the gin is just lovely and perfectly reflects the season of Spring.
As soon as you open the bottle the wonderful floral fragrance and scent of jasmine flowers and rose petals rises up and entices you further. There are lovely notes of jasmine and rose on the palate yet it is not too overpowering which I sometimes find with drinks flavoured with rose. This gin is best enjoyed over ice with a good tonic water and a sprig of mint leaves to give a nice contrast to the floral flavour.

Order Bloom Jasmine & Rose Gin.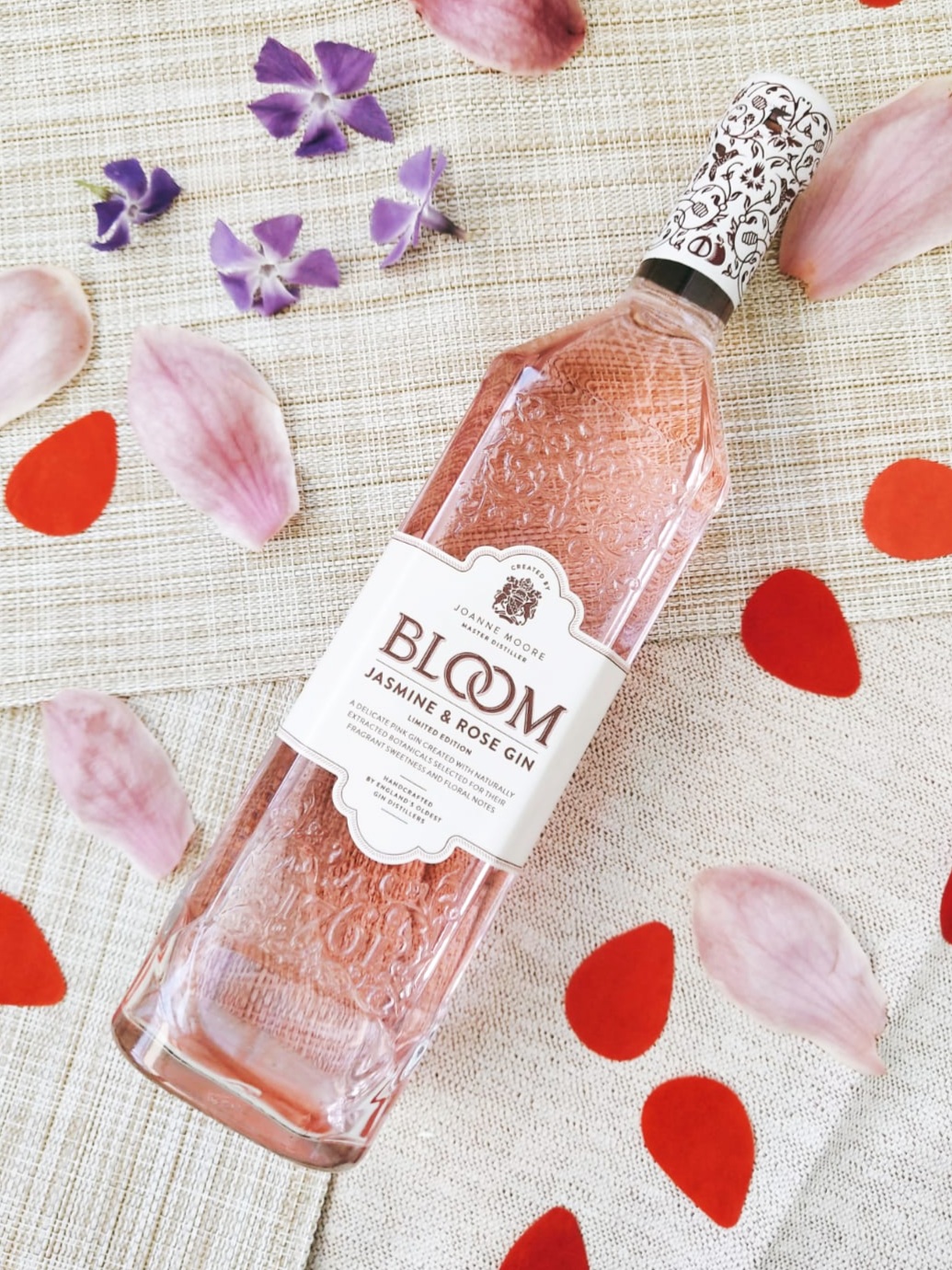 So those are my five gorgeous gins to try this Spring season. Whichever one you try, it is sure to get you in the mood for those sunny days ahead :D
Her Favourite Food x
Pin for later:
Thanks to 31Dover for providing a range of gins - all opinions are my own.